filed under:
Punk
and
Austin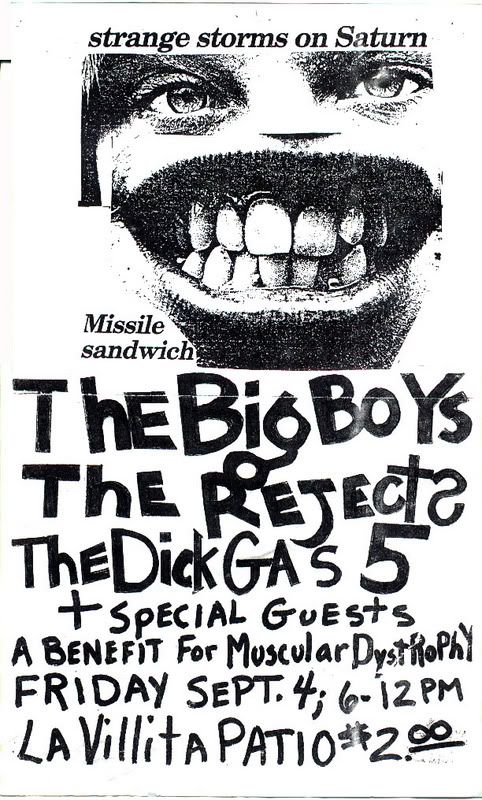 I was poking around teh internts and I came across this flyer. I love old punk flyers. They never look the same, sometimes with multiple designs for single gigs and there's always something that grabs your attention. In this case it was "Missile sandwich" because I remembered it.
This is a poster for a big rock show that took place on 9/4/81. The 3 headliners were pretty damn good. If I remember correctly, this was a gig for the MDA. While Jerry Lewis was doing his thing in Vegas on the Muscular Dystrophy Telethon these bands put on a show and all the profits went to the MDA.
The Big Boys may have been the best band on the planet. They headlined because nobody could touch them. They were the first skate-punk band that often toured with a funk horn section. Great stuff.
The Dick Gas 5 were a just barely contained explosion. Mixing noise with more noise and a beat poet adlibber their sonic collage would assault you, take your wallet and leave you wondering why your pants were around your ankles. a couple of weeks later they changed their name to Butthole Surfers.
the rejects was my band. Denise was 18, Mark and I were 16. We were kids.
What surprised me about finding this flyer is that somebody actually saved it. My mom doesn't even have it.
So yeah... something, something, something.